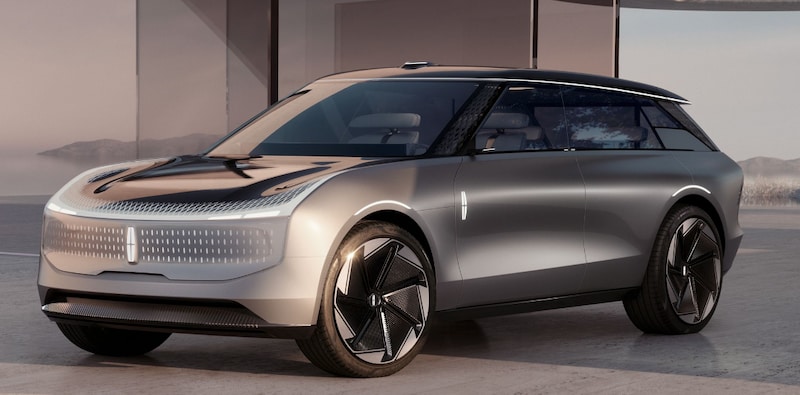 Upcoming Lincoln EV
The future of Lincoln looks bright as the transition to a more eco-friendly and all-electric driving experience is underway! Unlike our gas-powered vehicles, these electric vehicles utilize motors powered by batteries, slowly eliminating fuel costs over time. In addition, they offer zero tailpipe emissions and can travel further distances on a single charge! So continue reading to learn about the future of Lincoln and the electric models to come!
Introducing The Lincoln Star
The Lincoln Star will be the first all-electric vehicle within our inventory in the upcoming future. With a sleek, aerodynamic silhouette and connected cabin experience, drivers and passengers will be in for a one-of-a-kind experience behind the wheel! The all-new SUV will introduce a new design language for the brand with flexible electrical architecture to create a unique experience on the road. It will also be the foundation for future electric vehicles and provide everyone with an incredible driving experience. In addition, the model is to come equipped with a next-generation Lincoln Intelligence System that takes the role of a "digital assistant" to help maneuver seamlessly on the road and even offer driver-assist features like "Help Me See" and "Park For Me." Lincoln drivers can also expect a new updated safety system with the current Lincoln Co-Pilot360 system, delivering driver-assistive and accident prevention measures. While the Lincoln Star is ready to revolutionize the driving experience, it is still in early development and can expect a release date by 2025!
The Lincoln Star will be the foreground of upcoming electric vehicles, and customers can expect a full lineup in the future of eco-friendly and all-electric driving. One of these models is the Lincoln L100, which will provide a reimagined experience. This includes removing the steering wheel for fully automated driving! Be sure to follow our vehicle research pages to stay on top of new updates and changes with Lincoln models.
Benefits Of Owning An EV
When owning an electric vehicle, some may think the benefits stop at reduced fuel consumption. However, this is not the case because when comparing it to a conventional combustion engine, electric vehicles stand apart by offering advantages like:
Utilizing fewer moving parts, making them more accessible and cost-effective for preservation and repairs

The battery pack is strategically positioned for more even weight distribution and smoother control. 

Zero-emission performance contributes to a healthier environment and a better future for all

Federal Tax Credit: A tax credit of $2,500 to $7,500 could be yours just for buying a new Electric vehicle

Torque is generated immediately, and acceleration is quick. 

Public Charging Stations - Over 40,000 public stations country-wide where you can charge 
Learn More At Malouf Lincoln
While all-electric Lincoln models are still developing, customers can browse through our plug-in hybrid models, which offer the middle ground between gas and electric power. Though these vehicles cannot travel solely on the battery, they can be utilized to travel short distances when needed and help provide electric power in certain situations. Thanks to Lincoln, drivers can enjoy a more convenient, eco-friendly ride. So if you have questions or want to learn more about our inventory, contact us online or visit our dealership today!